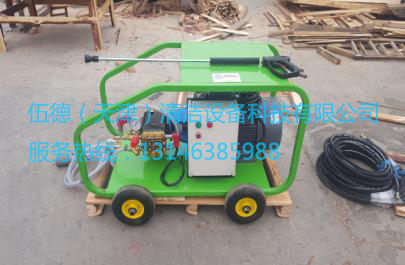 Model: WD3521

Technical Parameters:
Operating voltage: 380V three-phase frequency: 50HZ.
Maximum water flow: 300-1260L / h.
Maximum working pressure: 30-350 kg Machine power: 15KW
Weight about: 200 kg Equipment size: about 1150 * 800 * 800.
Standard preparation:
Italy high-pressure ceramic plunger pump Siemens powerful low-speed industrial motor high-density water inlet filtration system, pressure regulator, pressure gauge pressure switch, intelligent control heavy-duty casters, reinforced steel structure Rotary nozzle (optional)
10m high pressure pipe, 1 spray gun, 1 fan nozzle, 1 linear nozzle Product description and application:
use:
High-pressure cold water washing machine, working pressure 350 kg, water flow 21 liters per minute, using three ceramic plunger crankshaft pump, low-speed motor, compact four-wheel caster assembly and light movement, suitable for preheating crust cleaning, casting table cleaning Cleaning and dredging of chemical resin and condenser tube. Widely used in paper mills and chemical plants.
After sales service:

After sales service:
This product has a one-year warranty and supplies spare parts all year round for life-long maintenance.